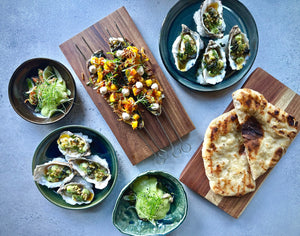 Bookings now open.
Galjoen is a South African sustainably-sourced seafood
restaurant.
We serve a tasting menu where we showcase the beautiful
seafood our country has on offer.
What makes us sustainable? Sustainability can mean different
things to different people. Our approach is to serve only what is responsibly
caught locally. If it's not from South Africa, it's not going on the menu.
By reservation only.
Lunch: 12:30pm Thursday to Saturday
R650 per person
Dinner: 18:45pm Tuesday to Saturday
R850 per person
Unfortunately, the building is not wheelchair accessible. Our partner restaurant Belly of the beast is.
Meet the chef - Isca Stoltz
I would definitely say that I am a firm believer in "Local is Lekker."

South Africa has some of the best produce in the world, and we should prioritize using what we have available locally before resorting to imports or unsustainable ingredients.

Supporting small businesses brings me great excitement, and it's even better when you know your suppliers personally by name.

Wasting food is something I strongly oppose. We are committed to making every effort to utilize every part of every ingredient to minimize waste.
Read more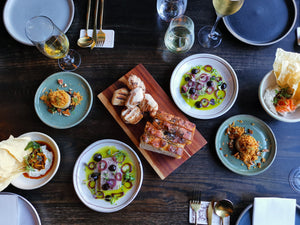 Belly of the beast
Book at our partner restaurant, Belly of the beast for a unique South African dining experience.
At Belly of the beast we source from local sustainable producers and use every part of the animal.
You can expect some dishes that might test your boundaries, but
we always balance our menu so that everyone will enjoy the experience.
Book at BOTB
Gyotaku by Liz van den berg
Gyotaku, a traditional Japanese art form, has always captivated me with its unique blend of technique, creativity, and
culture.
This art form involves using ink to transfer an impression of a fish onto paper or fabric, resulting in a strikingly realistic image that captures the essence of the fish's form and texture.
Read more